We all of us have favorite things. Mine are primarily words, tea, fiction, and music. Cooking, organization, and analysis tend more to be guilty pleasures. What can I say?
Tea
tea • noun 1. the second-most perfect beverage in existence, the first being water; 2. nature's pharmacy for the soul.
My favorite current tea blend: CHICORY MATÉ SPICE
For an entire teapot:
4 tbsp. yerba maté herb
2 tbsp. stevia leaf
1 tbsp. chicory
1 tbsp. cinnamon powder
1 tbsp. ginger powder
For one cup:
2 tsp. maté
1 tsp. each of chicory, ginger, cinnamon, and stevia
Use a coffee filter to strain this tea! A regular tea strainer will get gunked up with powder and you may lose some of your tea. Steep in almost boiling water until a dark, rich brown. Strain and enjoy!
Books
writer • noun 1. a reader who decided if you want something done right, you must do it yourself; 2.a reader who ran out of books; 3. a reader inspired to immitation.
Unseen by Rabia Gale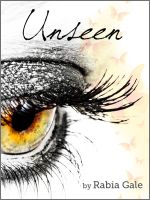 A collection of two previously published fantasy short stories about magic in unexpected places and about the loss of that magic. I had read the second selection—about a pudgy, ordinary man who has forgotten his own incredible origin and former life—before Rabia asked me to proofread this collection, but the first story—about a Pakistani girl who can see into a fantastical world others are blind to—was new to me. Both are enjoyable, full of choices between modern safety and wild beauty. Recommended to avid readers of Beneath Ceaseless Skies or Lightspeed's fantasy selections. [ ebook ]
Other Impressions of the Author:
Shattered
Aphorisms of Kherishdar by M.C.A. Hogarth, voiced by Daniel Dorse
Being quite fond of flash fiction in the first place, Hogarth's fil ekain, or incense stories, drew me from our first introduction. The Ai-Naidar are a graceful alien civilization who value the society more than the individual; thus they seek to find the place of each in the fabric of the whole, that none endure separation. These are beautiful stories, "short and lingering," as the narrator tells us, and the reader does justice to them with his warm storyteller voice. If you have never tried audio before, this is a lovely place to begin. [ audio ]
Other Impressions of the Author:
Spots: the Space Marine
The Case of the Poisoned House
Bread
hardtack • noun 1. a boring, edible substance made from flour, water, and maybe a pinch of salt; 2. a base for creating simple, mouthwatering breads.
SALSA BREAD
a bowl of all-purpose flour
a large jar of salsa
water
Combine all ingredients until all powder is thoroughly mixed in and dough is slighty soupy. Layer a baking dish in parchment paper and pour in mixture. Bake between 350 and 400 degrees until a knife stuck in the middle comes out clean. Enjoy!
[Note: I live in high altitude and it seems to take roughly about an hour for the bread to be done.]
What are some of your favorite things?