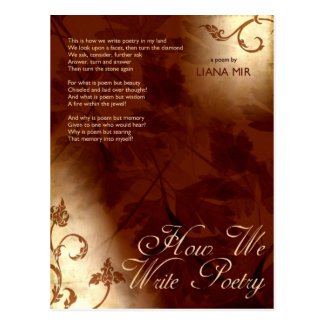 Postcard Poem: How We Write Poetry
by
LianaMir
Browse more
Writers Postcards
Prompt: I am a songbird / Singing out your window / Telling stories in the shade / And I can't fly away I can't fly away ~ Katie Herzig's "Songbird" by pygmymuse. Welcome
---
Jhemet out of Calai
Series Listing
409 S
409 W
459 S
461 S
489 S
496
496 AU
509 W
510 S
514 W
517 S
517 S
519 S
Story Within a Story
Story Within a Story - 508
Story Within a Story - 510
Story Within a Story - 517 W
A Letter to Fellow Historical Intern, Whom I Named Huerél
How We Write Poetry
Answer, turn and answer / Then turn the stone again
---
This is how we write poetry in my land
We look upon a facet, then turn the diamond
We ask, consider, further ask
Answer, turn and answer
Then turn the stone again
For what is poem but beauty
Chiseled and laid over thought?
And what is poem but wisdom
A fire within the jewel?
And why is poem but memory
Given to one who would hear?
Why is poem but searing
That memory into myself?
#
---
If you liked this story, you may also like Portrait of the Scribbler. Please consider sharing this story or tipping the author at left.